Welcome to ITSA Portal
This is a platform for officers of Indian Telecommunication Services (ITS) to share their Views, News, Latest happening in the world of telecom and to remain in touch with each other. You need to have Username/Password to enjoy the full features of site.Please contact your CS or moderator to get your username and password.
About ITSA
ITSA (Indian Telecommunication Services Association) is an Association of ITS officers. The Indian Telecommunications Service, widely known as ITS, is an organised Group A Central Civil Service of Government of India. The appointment to this service is done through Combined Engineering Services exam held every year by Union Public Service Commission (UPSC) of India. The service has been created to meet the technical and managerial functions of the government in areas related to telecommunications.The Department of Telecommunications (DOT) had been run for years by this cadre of civil servants.The officers of ITS are working in senior management and administrative positions in the Department of Telecommunications (DOT), Bharat Sanchar Nigam Limited (BSNL), Mahanagar Telephone Nigam (MTNL), Telecom Consultants India Limited (TCIL), Telecom Regulatory Authority of India (TRAI),Telecom Dispute Settlement Administrative Tribunal (TDSAT),Unique Identification Authority of India (UID), Central Vigilance Commission (CVC) etc.At present, ITS officers are also working in many other central and state government assignments on deputation.
---
---
News and Events
PAPER ON DIGITAL COMMUNICATION INFRASTRUCTURE SECURITY WRITTEN BY SHRI NAVEEN JAKHAR ITS SELECTED FOR NATIONAL E- GOVERNANCE AWARDS 2018-2019.
2019-02-20 20:04:16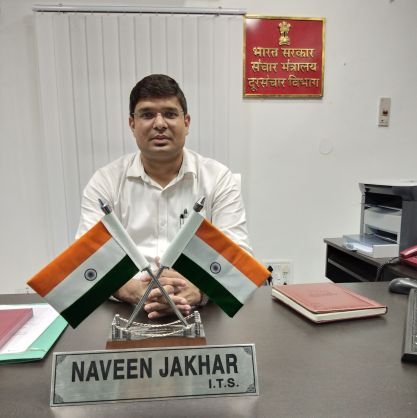 ITS Community congratulates Shri Naveen Jakhar ITS whose paper titled "Ensuring robust and secure digital communication infrastructure through automated traffic analysis for detecting frauds and end device user awareness" has been selected to be published in compendium of selected papers at National e Governance Awards 2018-2019 to be held on 27th February 2019.
ITS COMMUNITY SALUTES THE SUPREME SACRIFICE OF SOLDIERS IN PULWAMA ATTACKS.
2019-02-16 12:45:17
Indian Telecommunication Service Community salute the supreme sacrifice made by our soldiers who were martyred in Pulwama Attacks. To support the families of the martyrs, ITS community appeals to all officers of Government of India and citizens of India to generously donate at https://bharatkeveer.gov.in/
SH. G. NARENDRA NATH ITS HAS BEEN APPOINTED AS JOINT SECRETARY, PRIME MINISTER'S OFFICE, GOVERNMENT OF INDIA.
2019-02-05 23:19:58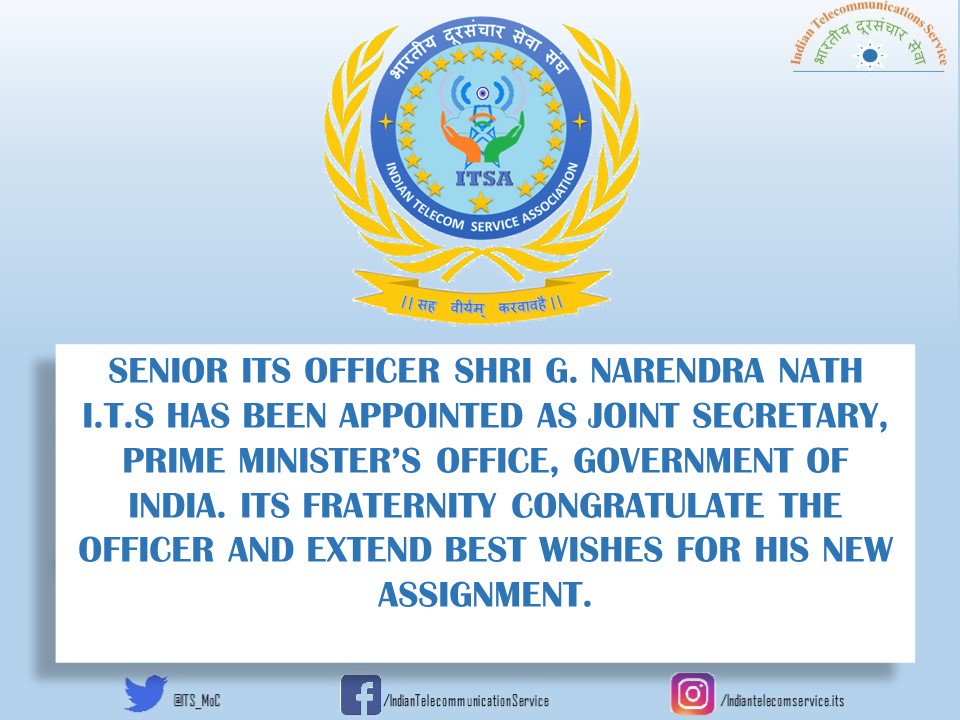 Senior ITS Officer Shri G.Narendra Nath ITS has been appointed as Joint Secretary, Prime Minister's Office, Government of India. ITS fraternity congratulates the Officer and extend best wishes for his new assignment.
ITS COMMUNITY'S GREETINGS TO THE NATION ON THE EVE OF 70TH REPUBLIC DAY
2019-01-26 12:19:16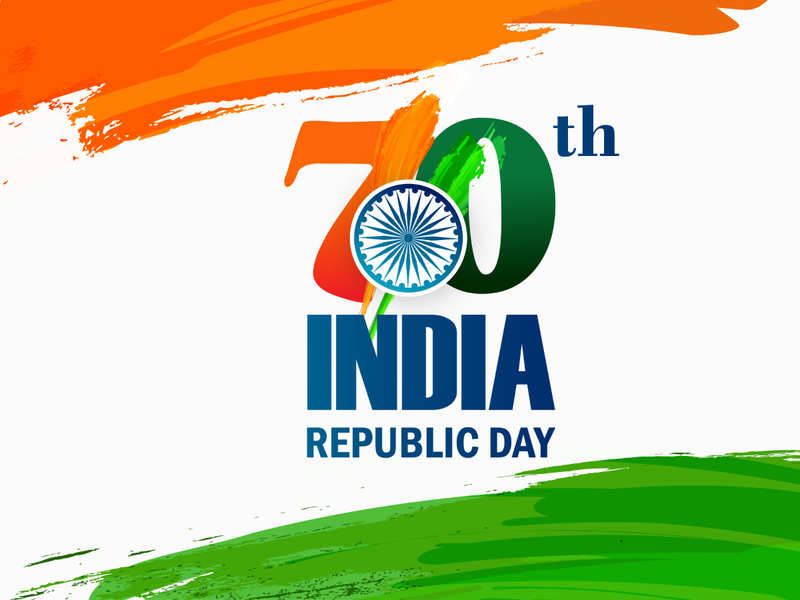 All ranks of Indian Telecommunication Service extend greetings to the nation on the occasion of Republic Day. ITS Officers are duty bound to safeguarding the Digital Frontiers of the country. #RepublicDay2019

INDIAN TELECOMMUNICATION SERVICE COMMUNITY'S SALUTATION TO NETAJI SUBHASH CHANDRA BOSE ON HIS BIRTH ANNIVERSARY.
2019-01-23 14:33:58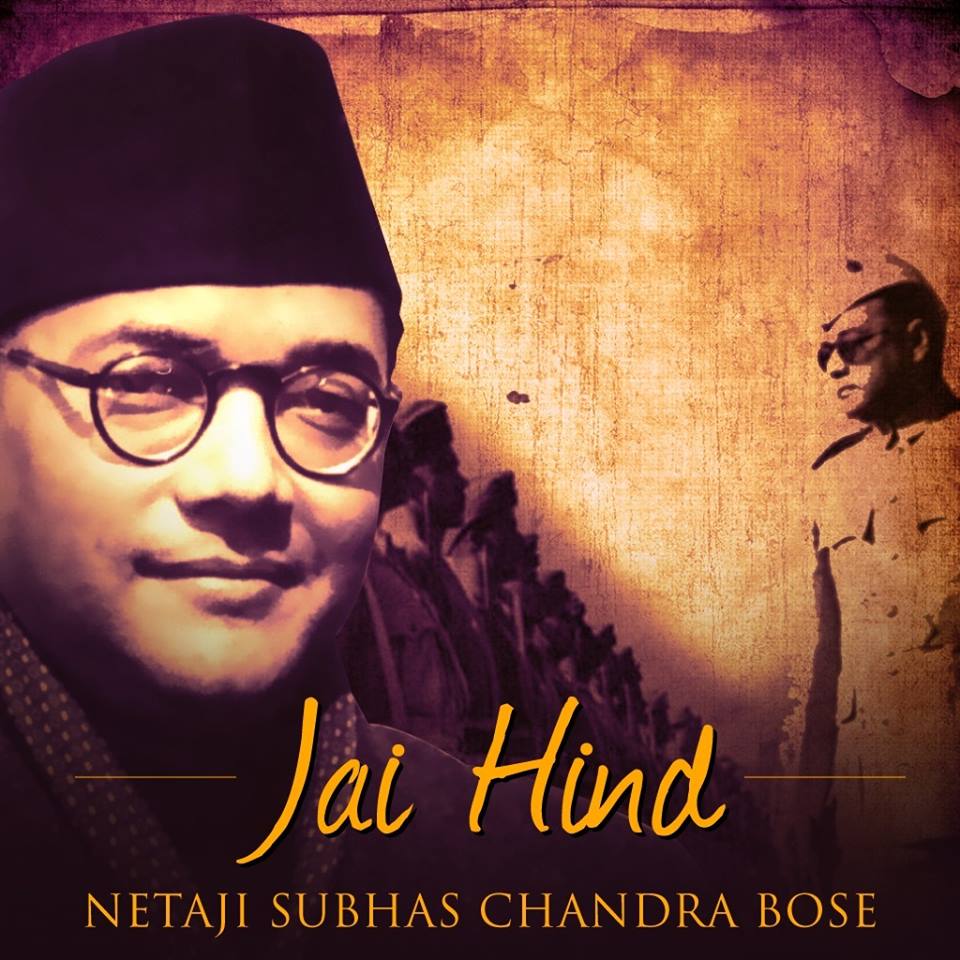 All ranks of Indian Telecommunication Service salute Netaji Subhas Chandra Bose on his Birth Anniversary, an exceptional freedom fighter whose efforts on front-line played a significant part in the freedom struggle of our motherland.
A phenomenal freedom fighter,
An exceptional leader and
Above all a brave son of mother India.
This superhero's unmatched bravery, courage and patriotism will continue to inspire Indians across generations.
More